Hannah Louise Goodzeck (Gustafson)
15/05/1946 - 29/01/2023
Obituary For Hannah Louise Goodzeck (Gustafson)
May 15, 1946 – January 29, 2023
Hannah Goodzeck went to be with her Lord on January 29 2023 at the age of 76 years.
Hannah was born in Berwyn Alberta to parents Oscar and Kathleen Gustafson. The oldest of six children, she was raised on the family farms in Clear Hills AB and then the Leighmore AB area near Rio Grande.
Hannah attended school and church in Clear Hills, Dixonville and then Beaverlodge.
As she grew up, she would help on the family farm, assist with her sister and brothers and explore her love for sketching and drawing.
She left the farm as a young adult and worked several jobs in the Beaverlodge area including working at the Esso restaurant where she met her husband.
Hannah relocated several times across Canada while raising her three children with her husband. She and the children eventually settled back in the Grande Prairie area close to her parents, siblings and extended family.
Hannah was a devout Christian and walked with the Lord her entire life. She always sought to participate and volunteer with local church activities wherever she called home. Through her years, she would teach children at DVBS, children's church, Pioneer Girls club. She also helped her mother at Bear Creek Bible Camp and other summer camps in the area.
She had a great love for her family, which continued to grow with many stepchildren, grandchildren, and great grandchildren. She enjoyed spending time with all of her family laughing, telling stories, playing games and listening to music and was always ready to give and receive a good back scratch. She had a fond love for all animals and usually had a family pet cat.
Hannah worked most of her adult life as an independent contract cleaner operating her business throughout the Peace region and eventually retired in Manning AB.
She spent her final years in several Seniors facilities, moving each time to be closer to family.
Hannah is survived by her siblings; sister Esther Naharniak (Gustafson), brother Arnold (Arnie) Gustafson, sister-in-law Karen Gustafson; her children Sherry (Frank) Guenther, Denise (David) Bruce, Kevin Bull (Laura Nett). She is also survived by her ex husband Gerald (Shelley) Bull, stepchildren Leeann (Allan) Boyd, Ron (Laura) Allcock, Randy (Connie ) Allcock, Debbie Allcock, Donna Allcock, Brenda (Sheldon) Savage, Joanne (Dennis), Lori (Robert), Eric (Sheryl) and Ivan (Terra) in addition to many grandchildren, great grandchildren, nieces, and nephews.
She was predeceased by husbands, Reginald (Reg) Allcock, and William (Bill) Goodzeck, siblings Oswald (Ozzie) Gustafson, Harold Gustafson and Carl Gustafson, her parents Oscar and Kathleen Gustafson and a stepson, Rick Allcock.
The family sends a special thank you to Dr. Pope and the nursing staff at Prairie Lake Dunvegan unit for their great care and support.
A Funeral Service for Hannah will be held on Friday, February 10 at 1pm at Bear Creek Funeral Home , 11802 99 Avenue, Grande Prairie with Interment to follow at the Emerson Trail Cemetery at 3pm.
Donations in memory of Hannah can be made to the Bear Lake Bible Camp Box 390 Sexsmith AB T0H 3C0
Care entrusted to Bear Creek Funeral Home 780 830 7742 bearcreekfuneral.com
Services
Bear Creek Funeral Home
11802 99 Ave
Grande Prairie, AB
T8W 0C7
Get Directions »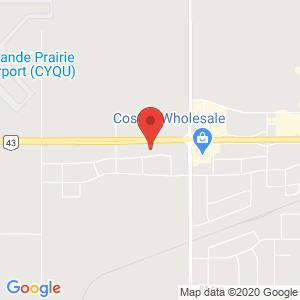 by Obituary Assistant
Photos & Video
Add New Photos & Video
Condolences