Marilee Elizabeth Rhody (nee Keislar)
15/08/1945 - 08/07/2023
Obituary For Marilee Elizabeth Rhody (nee Keislar)
* Updated Service Information *
August 15, 1945 – July 8, 2023
Marilee Elizabeth Rhody's soul winged its flight to the world of spirit at the Beaverlodge Hospital on 8 July 2023 at 9:31pm. Our hearts are filled with joy in the knowledge that she has now tasted of the honey of reunion with her Creator. Her radiant spirit will be greatly missed by her family, friends and many others who were blessed with meeting her during her many travels and sojourns around the world.
"O Lord, glorify her station, shelter her under the pavilion of They supreme mercy, cause her to enter Thy glorious paradise, and perpetuate her existence in Thine exalted rose garden, that she may plunge into the sea of light in the world of mysteries". ('Abdu'l-Bahá)
Marilee attended schools in the Woodstock School (India), Whittier College, (California), the University of The Pacific (Stockton, California), the University of Toronto and the University of South Carolina (Columbia, SC).
She is survived by her spouse, David Rhody, children; Kazim Rhody (1978), Kalua Rhody (1981), son-in-law Vincent Joyall (1977), and grandchildren Zenith Joyall (2012), Jedi Joyall (2014). She is also survived by her siblings; Allan Keislar (1947), Douglas Keislar (1951), Jeanie Barnes (1954); her brothers-in-law Greg Barnes, Allan Rhody, and Wayne Rhody; sisters-in-law Carol Keislar, Jane Keislar, Carol Frook-Rhody, and Marilyn Brace-Rhody; her paternal cousins; Robert Keislar, and Kathy Shedd and maternal cousins Howard Fleming Jr., Jana Fleming, Tracy Kastania, Jane Wells, and Dana Fleming, as well as her nephews and nieces on the Keislar family side: Kishoree Keislar, Kanti Keislar, Karan Keislar, Nikki Keislar, and Jaima Barnes-Shore, and her nephews and nieces on the Rhody family side: Matthew Rhody, Bradley Rhody, Dawne Rhody-Sullivan, Elaine Rhody-Ellis, Marianne Rhody, Michelle Rhody, Mandy Rhody-Zuk, Daniel Rhody, Travers Brace, and Michael Brace.
She was predeceased by her parents Marvin Keislar (1998), Mary Fleming Keislar (2004), and her grandparents Mott Keislar (1950), Edna L. (Beck) Keislar, Isaac Fleming (1950) and Mabel (Hustace) Fleming, as well as her sister-in-law Janet Rhody, and cousins Norman Tessman, Helen Boyd, and Timothy Shedd.
A Celebration of Life for Marilee will be held on Saturday, August 19th, 2023, at Bear Creek Funeral Home at 10:30am.
Memorial donations (in lieu of flowers) to the Parkinson's Association of Alberta in Marilee's name.
Care entrusted to Bear Creek Funeral Home 780 830 7742 bearcreekfuneral.com
A recorded version of her Celebration will be available in the Photos & Video tab at the top of Marilee`s obituary, along with additional readings and tributes.
Photos & Video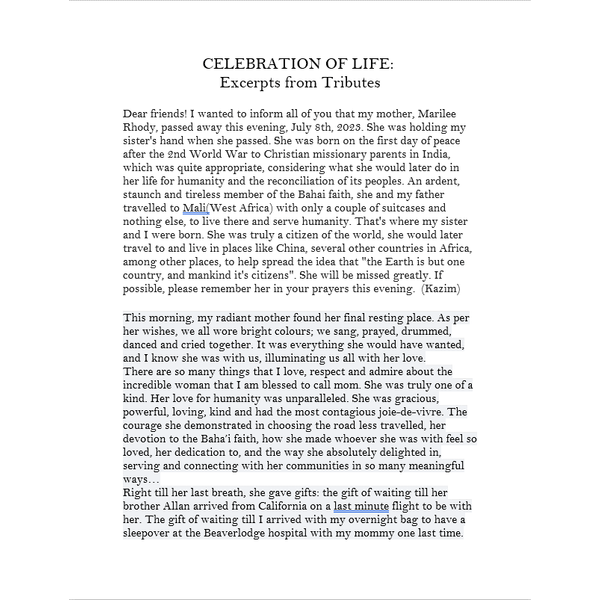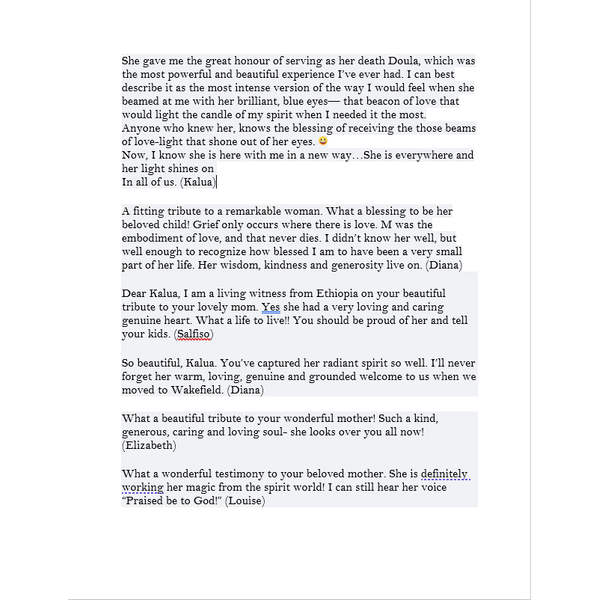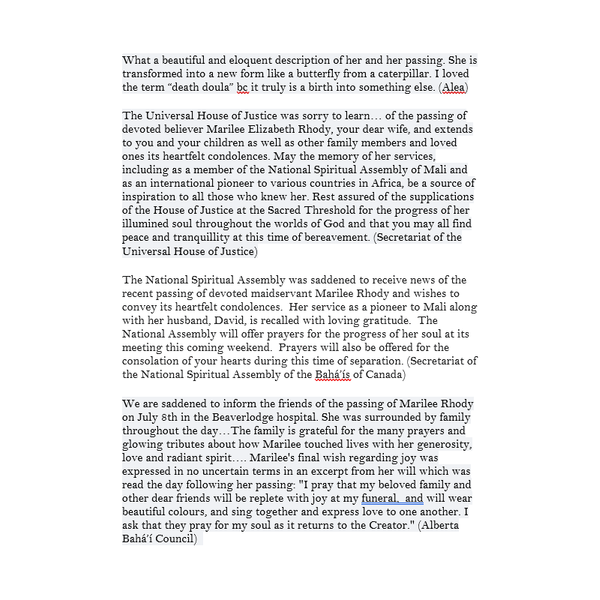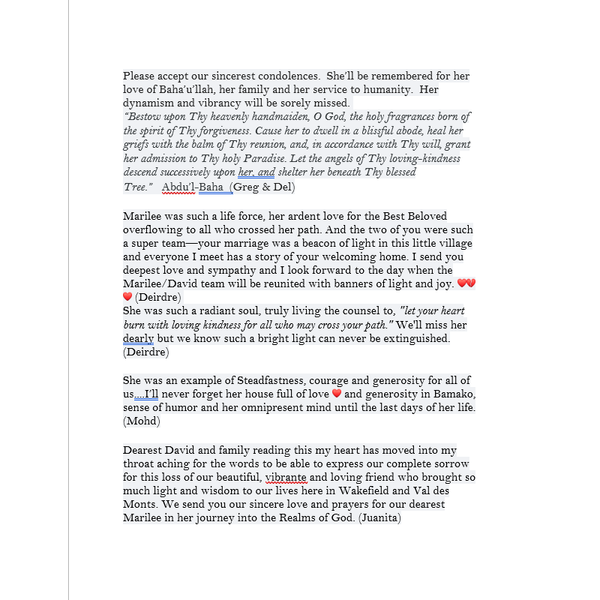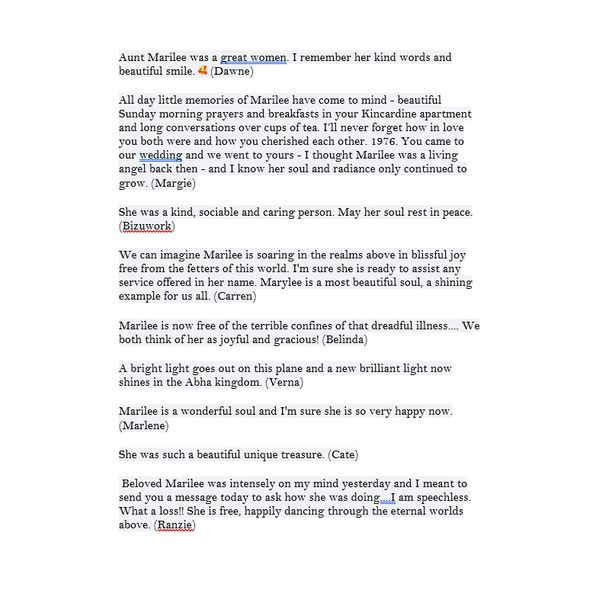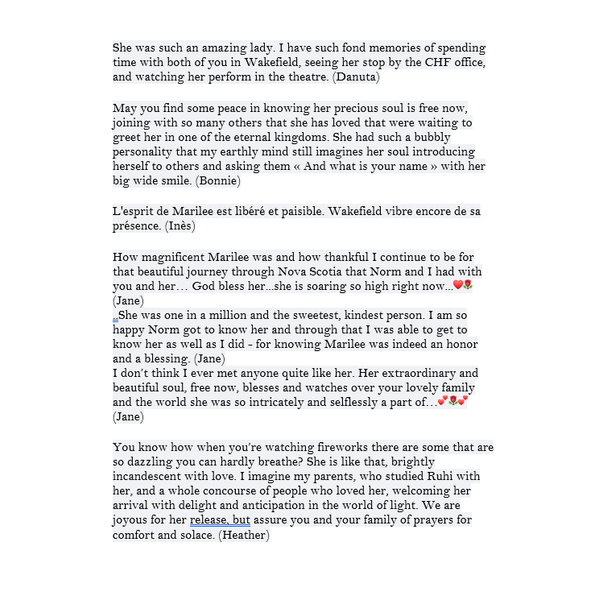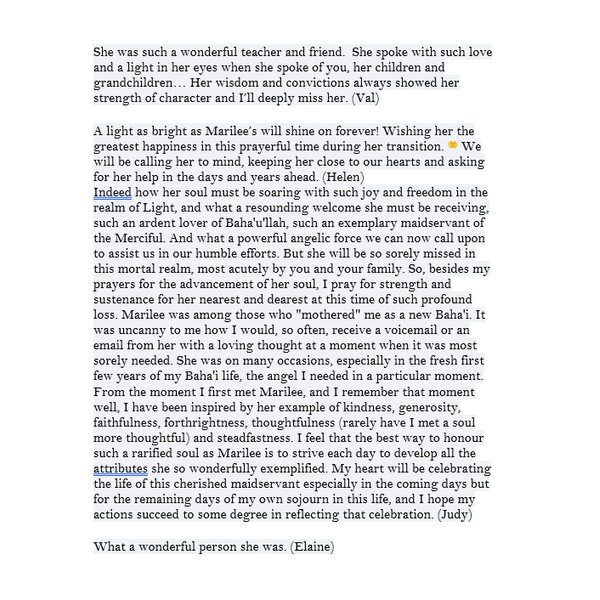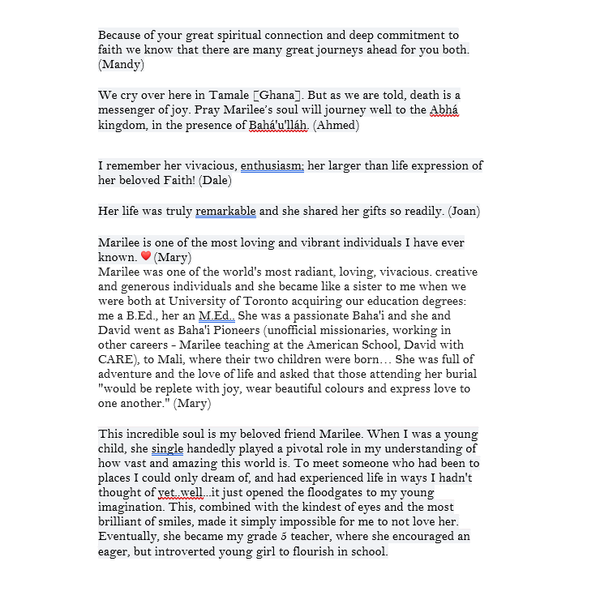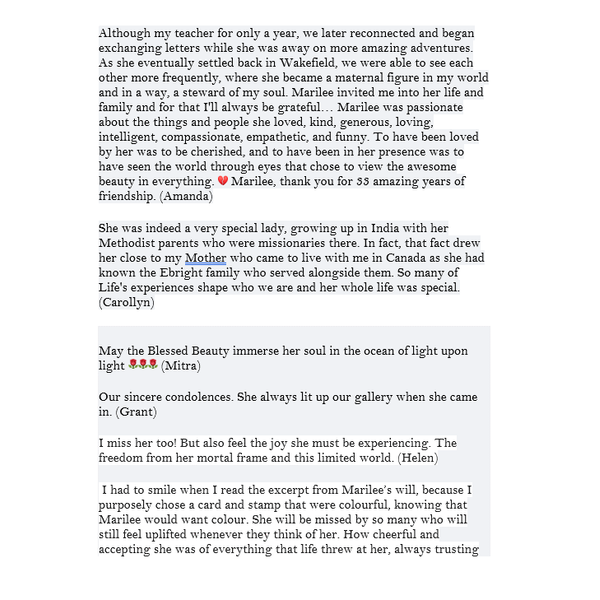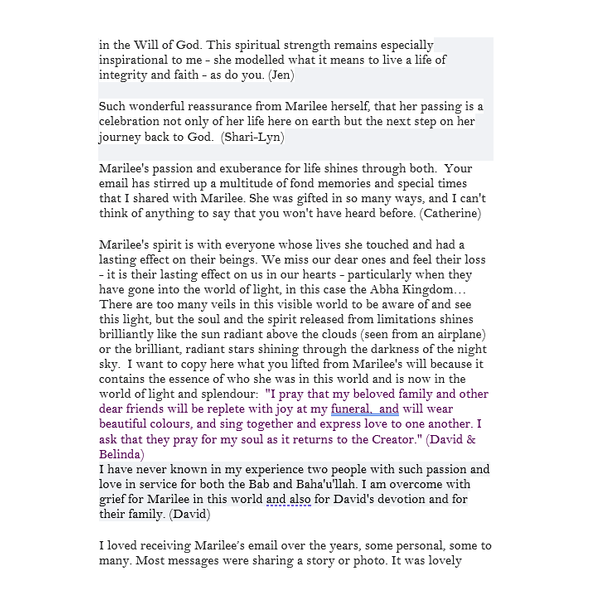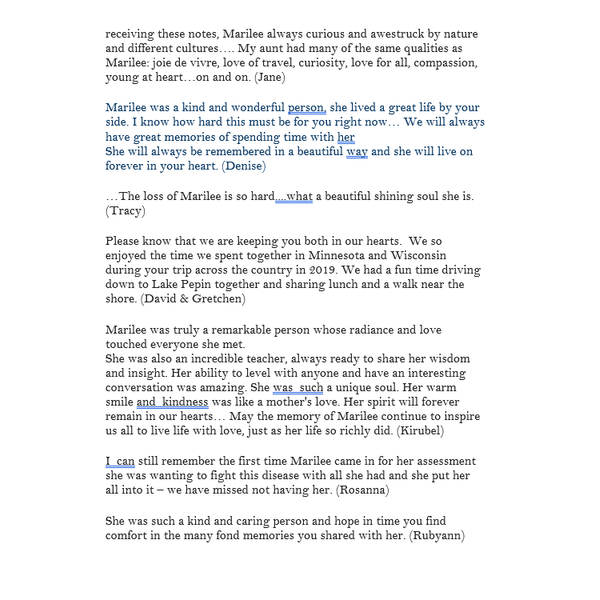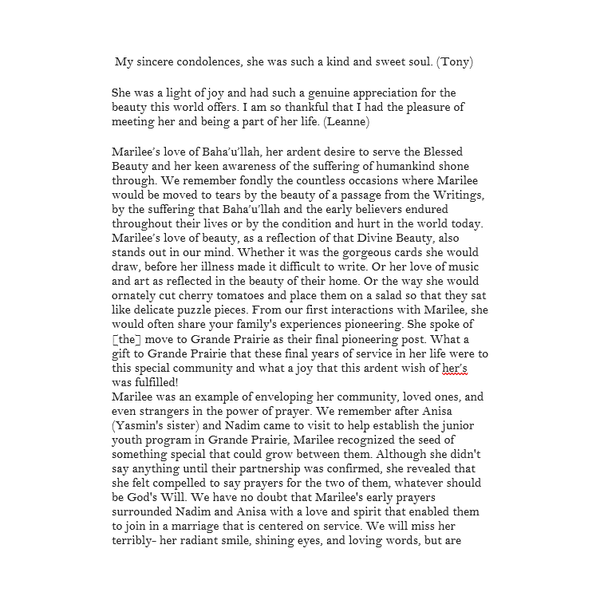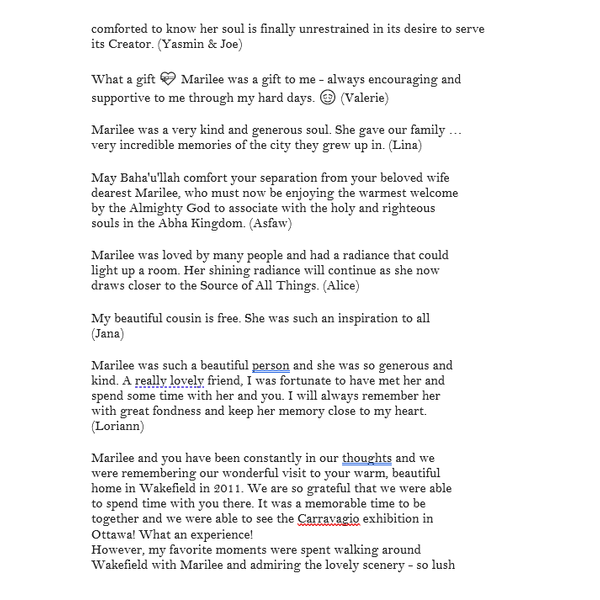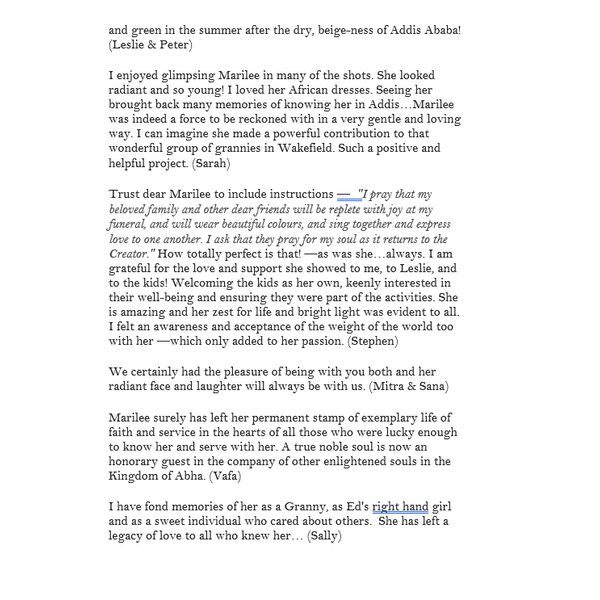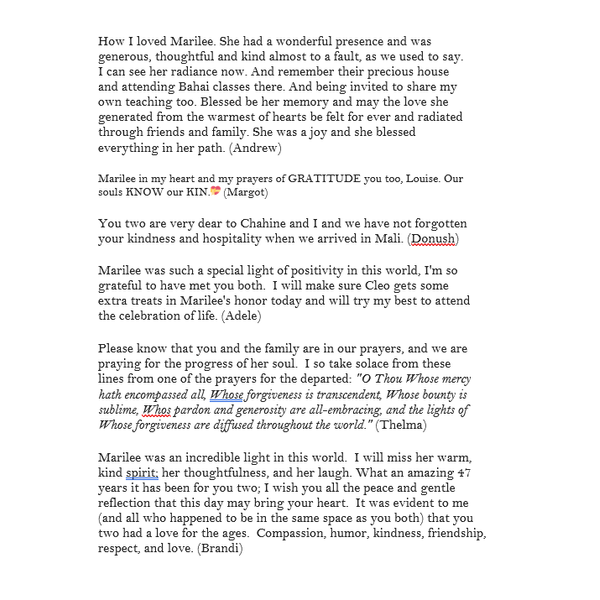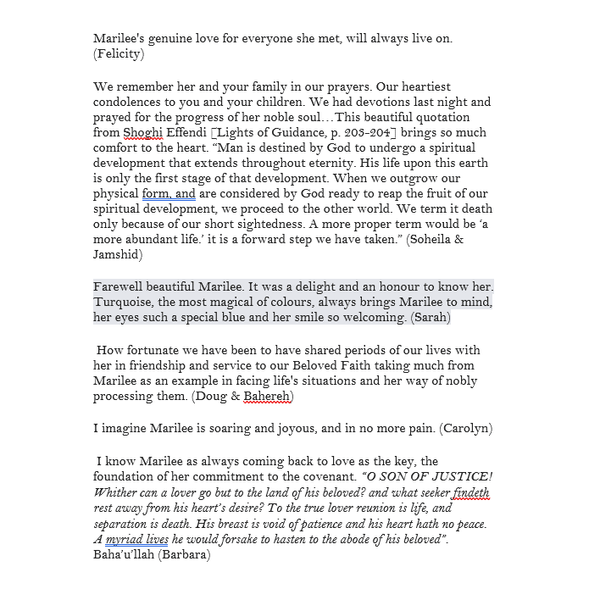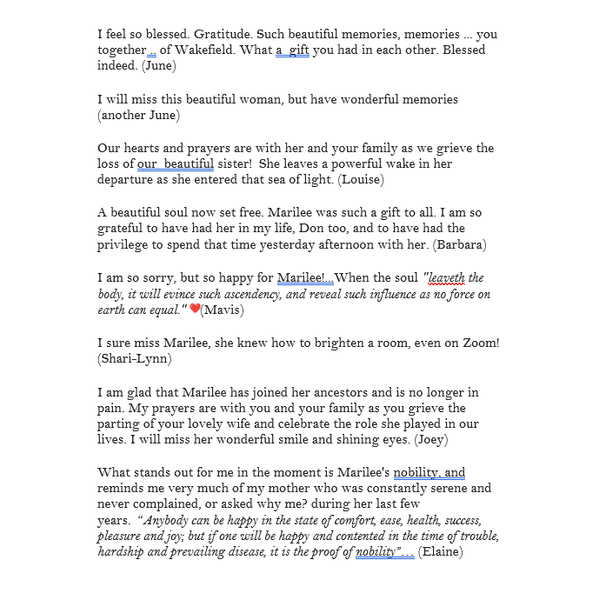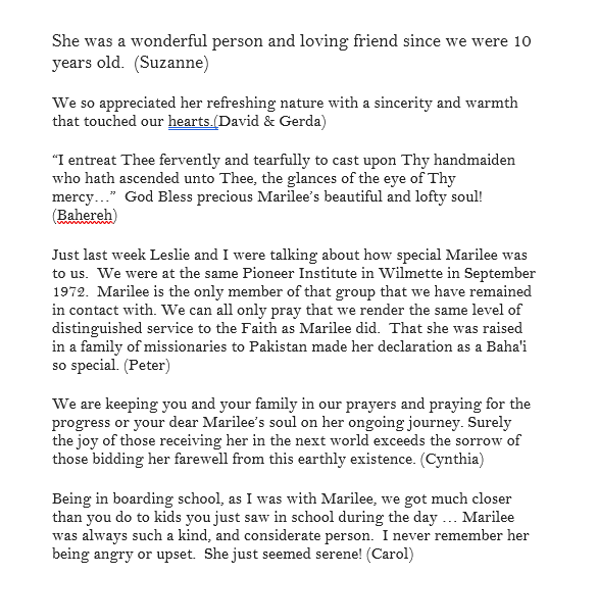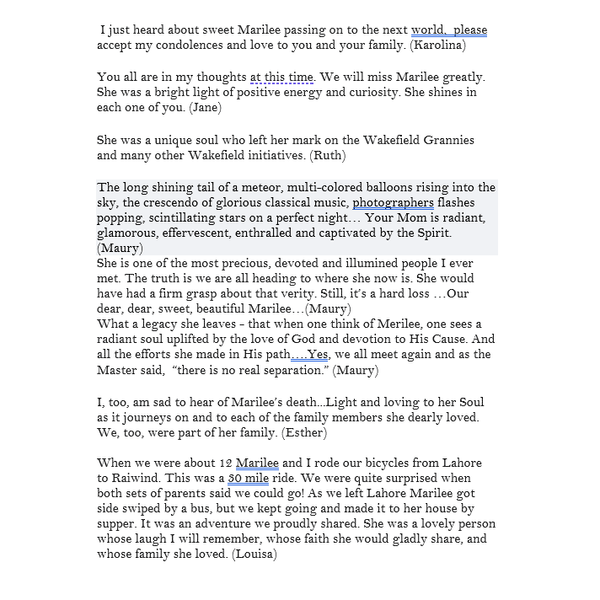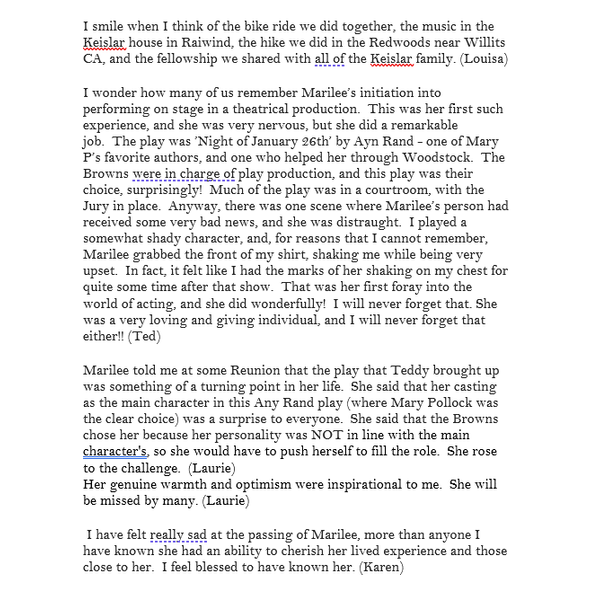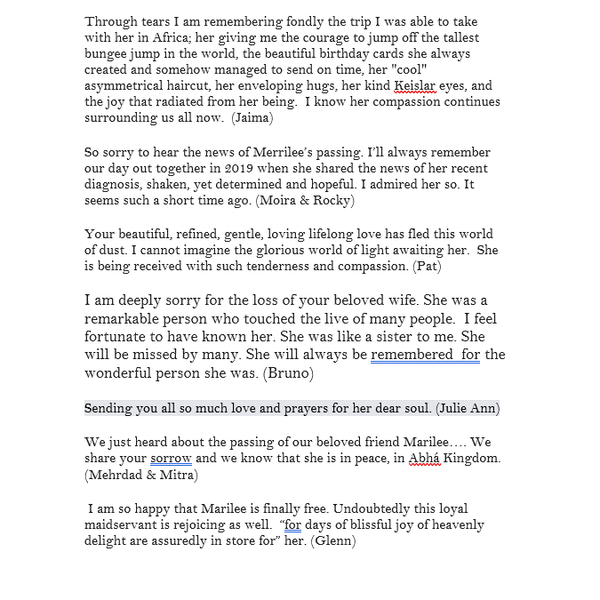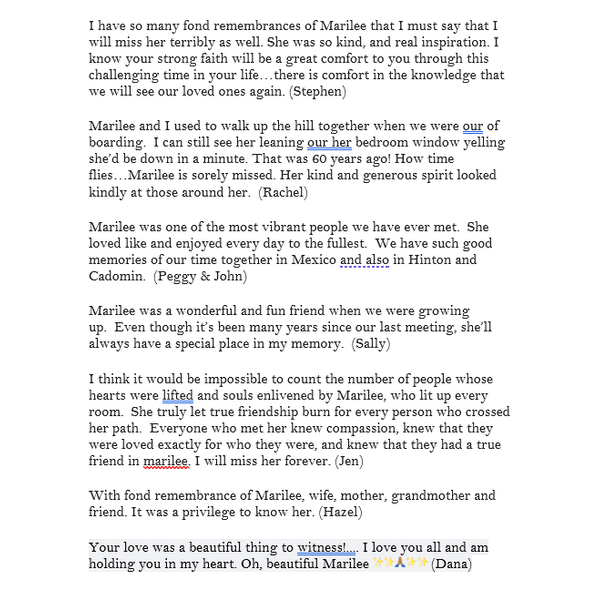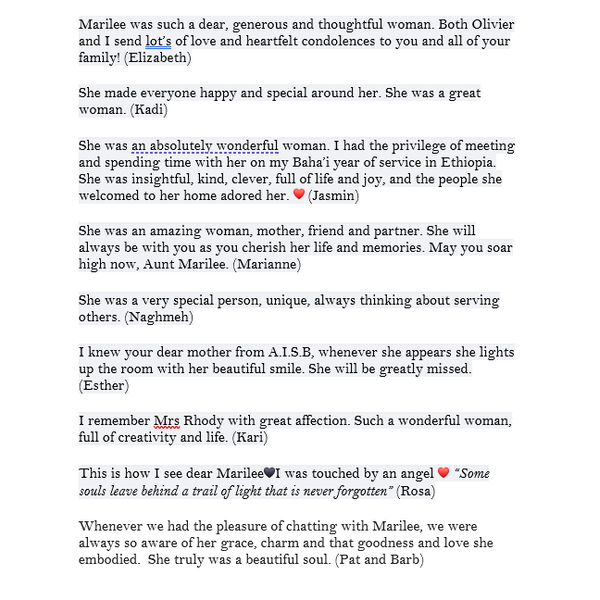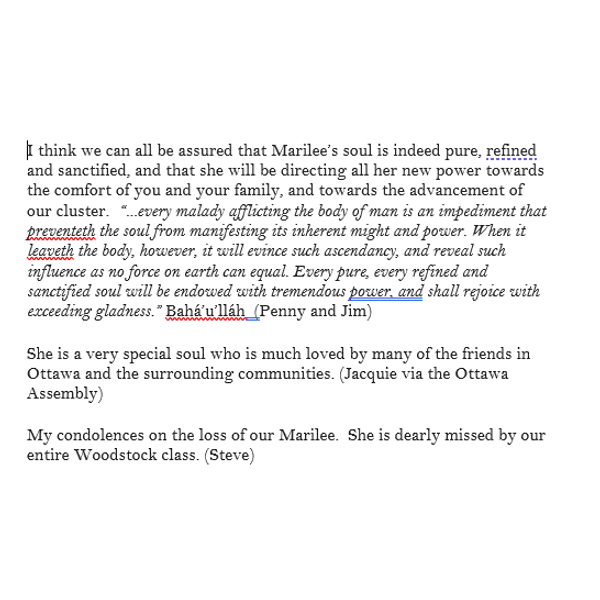 Add New Photos & Video
Condolences