Sarah (Sally) Marie Francis Elizabeth Anderson
14/02/1956 - 24/06/2022
Obituary For Sarah (Sally) Marie Francis Elizabeth Anderson
SARAH MARIE FRANCIS ELIZABETH ANDERSON ("SALLY")
February 14, 1956 - June 24, 2022
Age 66
It is our sad task to announce that Sally passed away in Prairie Lake Hospice following a long illness.
Life took Sally from Montana to Oregon to California and finally to the 55th parallel in Grande Prairie, Alberta. Her work life found her deeply involved in the heady infancy of the computer industry in what is now Silicon Valley. She later had her own accounting business. But her heart and soul were most profoundly at home in her work in the church as a catechist and later a Master Catechist, Director of Religious Education, and Director of Liturgy.
Once, in a grocery store, she met one of her past students who was now grown with children of his own. He spoke with her and then pointed to her and said to his children: "This is the person who gave me Jesus." As one friend observed, her life was animated by family and faith. She adored and was so very proud of her children and grandchildren.
Sally is mourned by her loving husband Greg; children Jennifer, Delbert, and Michael; grandchildren Kenzie and Tony; siblings Kevin, Tammy, Mark, and Ellen; Uncle Bruce; Elvis and Gaby; her "girls"; many cousins and very many friends.
She was predeceased by her parents, Alan and Darlene; most recently her Aunt Mary; and many aunts and uncles.
Her funeral service will be held at St. Joseph's Catholic Church in Grande Prairie on Saturday, July 2nd, at 11:00 am. There is a lunch following the service. For those unable to attend in person, click the link below.
Those in Grande Prairie are invited to embrace Sally's example of care and concern for women and youth at risk by making a memorial donation to North Reach 9613 98 Street Grande Prairie AB T8V 2E3 or Odyssey House, https://www.odysseyhouse.ca/contribute/donate/. Those who live elsewhere are invited to embrace her example by making a memorial donation to those in their own community doing similar good work.
Sally's family is so very grateful for the care she received by the doctors, nurses, and staff at Grande Prairie Regional Hospital Emergency Department, Maternity Department, and Unit 23, and the Prairie Lakes Hospice. You all do amazing work with great love and care. We also want to thank Bear Creek Funeral Home for taking such loving care of her. And thank you, Wes.
Care entrusted to Bear Creek Funeral Home 780 830 7742 bearcreekfuneral.com
Services
St. Joseph Roman Catholic Church
10404 102 St
Grande Prairie, AB
T8V 2W3
Get Directions »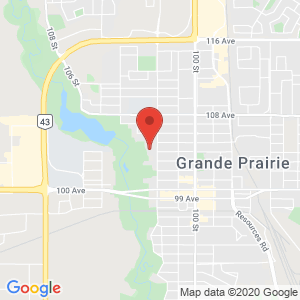 by Obituary Assistant
Photos & Video
Add New Photos & Video